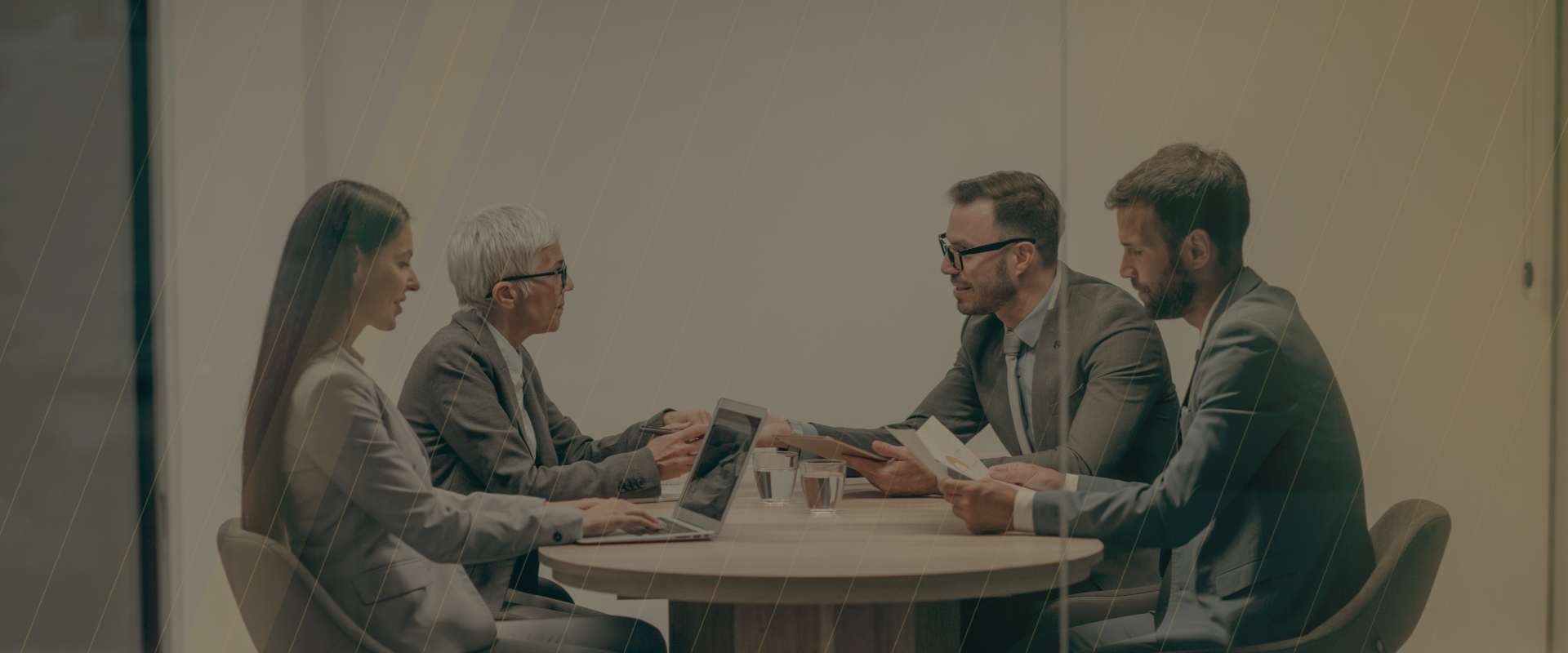 HR Design Group in Eurobuild CEE magazine!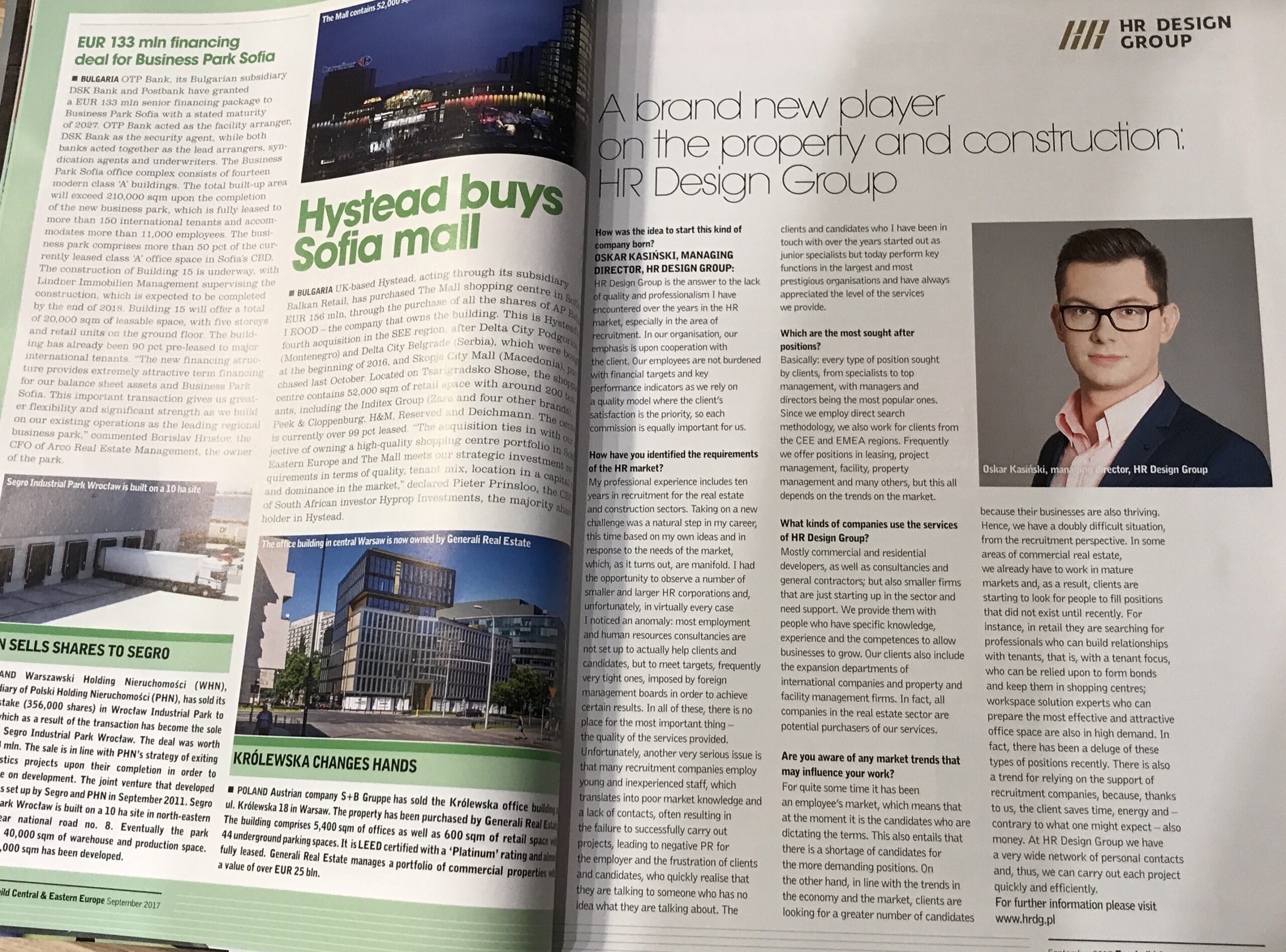 September 2017 Eurobuild CEE magazine – interview with our CEO:
Brand new player on the property and construction HR market
HR Design Group
– How was the idea to starting a company of this sort born?
Oskar Kasiński, managing director, HR Design Group: HR Design Group is the answer to the continual lack of quality and professionalism I have encountered for years in the HR market, specifically in the area of recruitment. In our organisation, we put emphasis on cooperation with the client. Their needs becomes our needs and we strive for success together. Our employees are not burdened with financial targets and KPIs as we rely on a quality model where the client's satisfaction is a priority, so each job equally important for us.
– How do you obtain knowledge on the needs of the HR market?
My professional experience includes 10 years in recruitment for the real estate and construction sectors. Therefore, a natural step in my career was to take on a new challenge, this time according to my own ideas and in response to the needs of the market, which, as it turns out, are numerous.
At the time, I had the opportunity to observe a few smaller and larger HR corporations, and unfortunately, in virtually every one of them, I noticed an analogy: most of the employment and human resources consulting agencies are not established to actually help clients and candidates, but to meet targets, frequently very tight, imposed by foreign management boards in order to "confirm the result." In all of these, there is no place for the most important thing – the quality of services provided.
Unfortunately, another very important thing is the fact that many recruitment companies employ young and inexperienced staff, which translates into poor market knowledge and lack of contacts, often resulting in failure to implement projects, building inefficient PR for the employer and frustration of clients and candidates who quickly realise that they are talking to someone who has no idea what they are talking about.
The clients and candidates, who I have been in touch with for many years, once were specialists and today they perform key functions in the largest and most prestigious organisations and have always appreciated the level of the services we provide.
– What are the most sought out positions?
In principle, every type of position sought by a client, from specialists to top management, with managers and directors being the most popular ones. Due to applying the direct search methodology, we also work for clients from CEE and EMEA regions. Most frequently, we offer positions in leasing, project management, facility, property management and many others, but it all depends on market trends – currently there are many new positions that previously did not exist in Poland and other countries.
– What companies use the services of HR Design Group?
Mostly commercial developers (offices, retail and warehouses) and housing / residential developers, as well as consulting companies and general contractors, but also smaller firms that are just starting up in the industry and need support. We provide them with people who have specific knowledge, experience and competences so their businesses can grow. Our clients also include expansion departments in network companies or property and facility management companies. In principle, all companies in the real estate sector are prospective purchasers of our services.
– Have you observed any market trends that affect your work?
For quite a while it has been an employee's market, which means that nowadays the candidates dictate the terms. This also translates into a lack of candidates for more and more demanding positions. On the other hand, following the records in the economy and in the market, clients are looking for a greater number of candidates because their businesses are also thriving. Hence, we have a doubly difficult situation, looking from the perspective of recruitment.
In some areas of commercial real estate, we have already been dealing with mature markets, and consequently, clients are starting to look for persons to fill in positions that did not exist until recently. For instance, they are searching for persons who can build relationships with tenants (tenant focus) to create bonds efficiently and keep them in centres, and workspace solution experts who will arrange the most effective and attractive office spaces. There has been a real "flood" of these types of positions recently. There is also a trend to rely on the support of recruitment companies because, thanks to us, the client saves time, energy and, contrary to one might expect, also money.
At HR Design Group, we have a very wide network of personal contacts and, thus, we can carry out every project quickly and efficiently.